Red Tag - Nuisance Abatement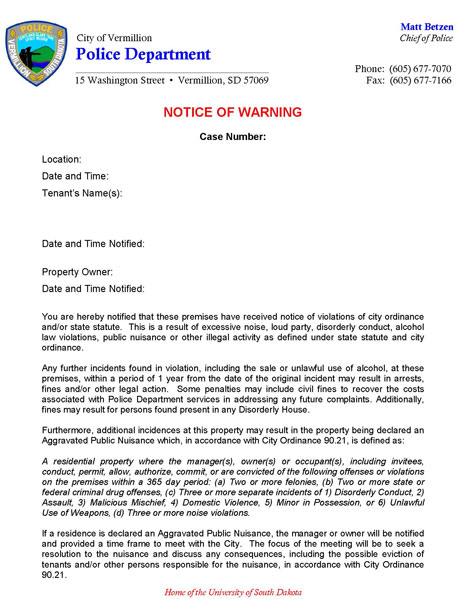 The Vermillion Police Department takes a proactive approach to help foster safe neighborhoods. We have developed a procedure to utilize existing ordinance to help property owners, managers, residents, neighbors and neighborhoods where a variety of illegal activity may be taking place. We monitor different illegal activities to determine if they fall within the guidelines of City Ordinance 90.21, Aggravated Public Nuisance.
Under this ordinance, certain activities and crimes may be combined to be considered an Aggravated Public Nuisance. Properties where two or three incidents occur within a 365-day period (depending on the type of illegal activity) may be referred to the City Manager for consideration as an Aggravated Public Nuisance.
Our Department began utilizing this ordinance to assist neighborhoods with properties that experience frequent incidences of disorderly conduct, assault, domestic violence, noise violations, illegal drugs and underage alcohol violations. As Patrol Officers respond to calls for service and learn illegal activity has taken place that meets the criteria of the ordinance, the officers notify the residents of the Red Tag Warning System.
Following the incident, the residents and property owner and/or manager are notified with a formal written warning notice that the illegal activity encountered by the Police Department met criteria of the Aggravated Public Nuisance ordinance. Once a nuisance warning has been issued, subsequent incidents on the property could lead to referral of incidences to the City Manager. Once a property has been referred, the property owner or manager is subject to a nuisance abatement conference with the City Manager for planning a solution to resolve issues on the property.